Featured Etsy Artist
Cari from
CrochetHooked
Cari is the shop owner of a beautiful Etsy shop featuring crocheted wire bead bracelets which she calls Braidlets. ® She chose the name of her shop because it describes her perfectly-- she is crochet hooked! Her shop has been open around a year, but has been a member of Etsy since 2005. Her favorite piece is the Tourmaline October Libra Braidlet because her Zodiac collection of Braidlets were her first items she sold.
The materials she loves to use are wire and beads for crocheting. The colors she likes to work with most are strong, bold colors like red, blue and green since they jump out to you when you see them, but she has began working with pastels.
She does do custom orders with
no obligation to buy
! She receives your preferred colors, makes the Braidlet, send pictures to the customer for approval because she wants her customers to be 100% satisfied with their purchase!
What she has to say about how Etsy has changed her:
"I look at artists and their creations in a different light since I have been selling on Etsy. I am inspired by most to take a chance and let things fall as they may. As Emerson said, 'The reward of a thing well done, is to have done it.'"
Cari from
CrochetHooked
has not donated just 1 or 2 bracelets-- she has donated these 3!

This Giveaway has Ended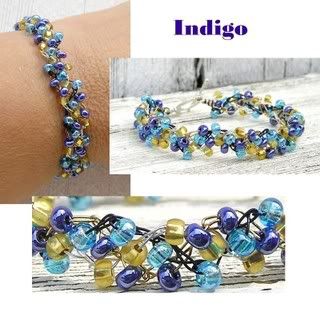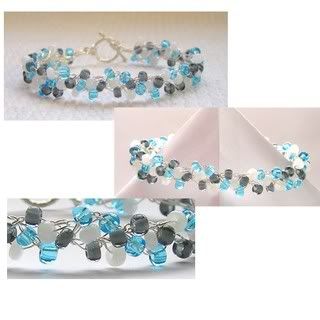 To be eligible to win one of the three bracelets above:
1. Visit CrochetHooked's Etsy shop at
http://crochethooked.etsy.com
and look through her items.
2. Comment on this post with your name, e-mail, the name of the piece you liked the most, and why. The answer "It's cute" won't cut it. Actually think about it!
3. You can enter until Monday, August 11th. The winners will be picked randomly by a number drawing system and announced Monday, August 11th at 7:00 PM.
You do not have to be a livejournal member to comment-- just post an e-mail address I can get ahold of you with!
If you are coming from bloggygiveaways.com-- make sure to check out the other giveaway on this blog--
Silvery Black Onyx Necklace from Wiyomu
Her Braidlets can also be found listed on Google Base, http://lov.li/ and silkfair.
Visit
CrochetHooked.Etsy.Com
Today!